Hollister, San Juan Bautista, Gilroy, Morgan Hill and Aromas Information
"The Land of St. Benedict" takes its name from the meandering San Benito River, seen for the first time by Father Juan Crespi in 1772.
Geologically, San Benito County is quite young, reflecting dormant volcanism and active faulting. It is one of the most active earthquake areas in the world and gives the visitor elevation extremes from near sea level to almost 5,000 feet. San Benito County was formed in 1874 from a portion of Monterey County. Thirteen years later, the state legislature expanded the county at the expense of Fresno and Merced counties. Territorially, it has remained unchanged since 1887.
---
Downtown Hollister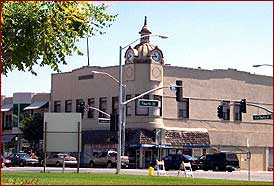 "Big Opportunity in a Small-Town Setting"
Hollister is an attractive, historic commercial hub and county seat. Downtown contains Hollister's largest concentration of city and county government offices, library, county courthouse, and retail and other commercial activity, including a wide range of services, institutions, and new and used auto dealers. A pleasing mix of businesses and government offices, downtown is bordered on two sides by tree-lined neighborhoods of attractive single-family homes. Many of these homes and commercial buildings are part of Hollister's fine stock of historic buildings.
San Juan Bautista Mission
"Discover the Pleasure of Visiting Old California"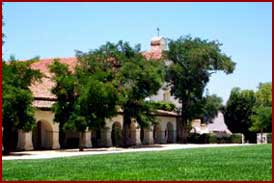 Only 90 miles south of San Francisco and 35 miles from San Jose, San Juan Bautista is only three short minutes off Highway 101
. You will find it filled with many quaint mid-1800s buildings which have been turned into thriving specialty shops, superb restaurants, antique shops and fine art galleries. State Historical Plaza is located across from the Mission. You will experience visiting such original buildings as the Castro Adobe, the Plaza Hotel and Stable with its fine collection of buggies and wagons, and the old blacksmith shop where horseshoes were made for the stagecoach horses. As you stroll across the Plaza, you will see the picturesque Mission San Juan Bautista which was founded in 1797. It is still an active church with many activities and festivals each year. Come visit San Juan Bautista. "Shop for Today While Walking Through Yesterday."
Pinnacles National Monument
The site of an ancient volcano which encompasses nearly 10,000 acres, the monument lies adjacent to the San Andreas Rift Zone. It is filled with spire-like formations, crags, and subterranean caverns. Flashlights are required for visitors entering Bear Gulch and Balconies Caves. The area is popular with climbers, hikers and campers.
Fremont Peak State Park and Observatory
This park is a 244-acre park located at the end of a twisting nine-mile road that affords sweeping vistas of Hollister, San Juan Bautista and the cities and towns to the north. Fremont Peak caps the Gabilan Range. From the summit, a short hike above the parking lot, the panorama of Monterey Bay is visible. The spot is reported to be the first place in California where an American Flag was raised as Col. John Fremont led a survey party to the Summit where he made a brief stand before beating a retreat. The park has camping and picnicking areas. Astronomical observatory is open to the public and offers group tours.
Hollister Hills State Vehicular Recreation Area
This area is a 3,200-acre motorcycle activity center with 800 acres set aside for four-wheel-drive vehicles. International level competitions are held there, and amateur enthusiasts flock to the park for recreation year-round. The park also offers trails for mountain bikers and hikers as well as picnic areas and campsites.
Area Golf
All golfers that play the game in San Benito County should realize how lucky we are. With the San Juan Oaks, Ridgemark and Bolado golf courses, we have the opportunity to enjoy fantastic golf in beautiful settings. San Juan Oaks and Ridgemark both host world-class professional golfers and events, while Bolado is an historic local jewel that just keeps getting better. These courses also bring in thousands of people per year from surrounding areas who enjoy our hospitality while boosting our economy. Even for the non-golfer, Ridgemark and San Juan Oaks offer a beautiful setting for weddings, banquets and business meetings.
Area Wine and Spirits
Tour the scenic vineyards of the Cienega Valley and taste the wines made there. The Cienega Valley, also known as the Lime Kiln Area, has rich limestone deposits such as are found in the soil of many of the world's greatest vineyards. The early morning coastal fog, cool evenings and warm days provided the perfect climate for growing wine grapes in this region.
Looking for Adventure?
The Hollister Independence Gypsy Bike Rally's origins can be traced back 75 years or more when the gypsy bikers stopped for a day or two to race each other, talk and exchange adventures of the open road. Now the Hollister Independence Rally draws 50,000 to 60,000 people to check out the 80-plus vendors, tattoo contests, motorcycle games and show, photo towers and much more. Hollister bills itself now as "the birthplace of the American biker."
---
Transportation
Truck freight access to the community is provided by Interstate 101 on the west side and Interstate 5 on the east side of the county. Highways 152 and 156 provide access on the north and south sides of the county. These highways assure local businesses that their products and services are within easy reach of their markets and customers.
Rail freight in the area is provided by the Southern Pacific Transportation Company. Service is provided both north and south through Salinas on its main coastal route between Roseville, San Francisco and Los Angeles.
Hollister Airport
Hollister Municipal Airport provides excellent facilities for light planes, corporate jets and helicopters. The airport has two lighted runways; the main runway is 6,350 x 200 feet. Flying weather is exceptional, with good ceilings and visibility almost every day of the year. Ground facilities include maintenance services, hangar facilities, and fuel. Other facilities at the airport include the State Division of Forestry Aerial Tanker Base, an Aviation Mechanics School operated by Gavilan College and more than 100,000 square feet of industrial buildings. The airport is adjacent to several business parks in various stages of development. These sites offer direct aircraft taxiway access to industrial sites and planned business facilities.
Housing
The Hollister area offers a wide variety in style and prices of homes. Existing home prices are between $220,000 and $950,000. Six new suburban residential communities with lot sizes ranging from ¼ acre to 5 acres and priced from $350,000 to $1,500,000 are located in the area. The area has a residential 36-hole golf course, and several more are in the developmental process.
Rentals for one and two bedroom apartments and duplexes range from $475 to $900 per month. Rentals for two and three bedroom houses range from $900 to $1,800 per month. Two mobile home parks are also located in the area.
Health Care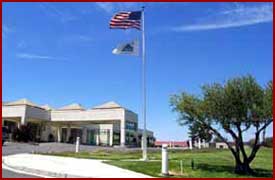 San Benito County's medical community offers state-of-the-art health care services to its residents
. The area is served by two main hospitals, St. Louise Hospital and the Hazel Hawkins Medical Center. There are also a number of dentists, optometrists, chiropractors, podiatrists, massage therapists and physical therapists that practice in the County.
Augie & Calla Bertao


Broker/Owners/REALTORS®
DRE#
:
01062647-00966075
Bertao Real Estate Group
Address
330 Tres Pinos Rd F-2
Hollister, CA 95023